Ortur Laser Master 3 LE Review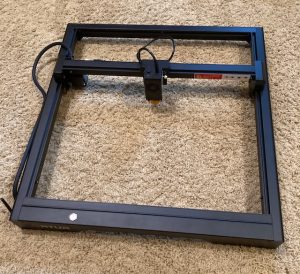 I've been doing desktop diode lasers since they became mainstream in about 2019. Prior to that they were mostly DIY. Ortur was pretty much first to the game with the Laser Master 1 and subsequently the Laser Master 2. I owned 2 of those. I've since picked up a Laser Master 3, an Aufero 2 and now it is time to do an Ortur Laser Master 3 LE Review.
I wasn't really a fan of the Ortur Laser Master 3 and I wrote at length about that here. My LM3 works fine but I generally think the design has some issues. It sits so low as to be almost unusable for anything over 400mm in width unless you raise the machine. Also there are support issues regarding the lens protective glass that just aren't right.
Unboxing And Assembly Video
HA! I don't do that here. Ortur lists what's in the box on the product webpage and they have a great assembly video. Why people think showing what's in the box is useful in a video when those components are listed in a chart, I'll never know.